Laccura Med Spa &
Wellness Center
Relax our Enjoy Premium Med Spa Service
in our Highland Park Wellness Center
Advanced Skin Rejuvenation in Highland Park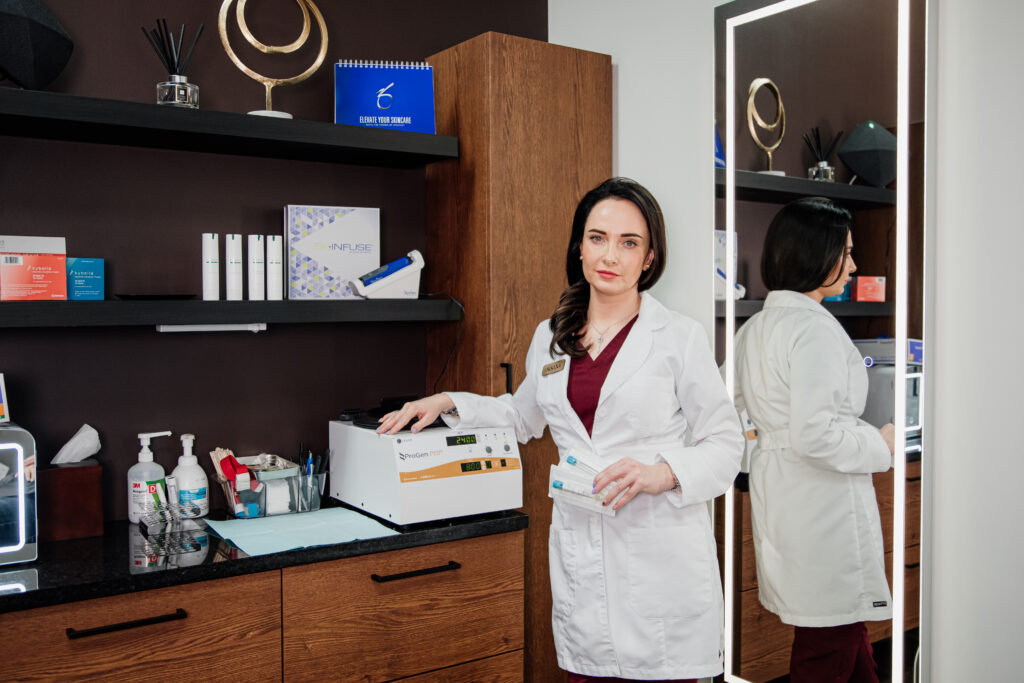 Advanced Skin Rejuvenation
Life takes a toll on your skin. Aging, the sun, wind, smiles and frowns, and even significant weight changes have an impact on your skin's condition. A comprehensive approach that can address multiple skin issues may be the right choice.
More about the skin treatment procedure
Advanced Skin Rejuvenation at Laccura can improve the:
Sunspots
Melasma
Hyperpigmentation
Stretch Marks
Depending on your specific needs, our skilled skincare experts and estheticians will recommend one of our three treatment options best suited for your precise conditions.
Different skin types, heredity, and environmental exposure are some key considerations when determining your skin smoothing treatment. Our beauty experts will review your options and explain what you can expect for results depending on your distinct situation.
Each of our offerings is FDA-approved, non-invasive treatment with excellent track records.
Penetrates deeper than other therapies. It is approved for lifting skin under the chin, on the brow, and the neck.
While each treatment works differently and is better suited for certain conditions, they each will effectively treat:
Skin Texture
Wrinkles
Dark Spots
Uneven Skin Tone
Rosacea
There are many more conditions that are successfully treatable by each of these therapies. We will carefully assess your skin type, identify all skin conditions, indications of damage, or skin disease, and then recommend the appropriate therapy for face and body to address those issues. 
Benefits of Skin and Facial Rejuvenation

Each of our Advanced Skin Rejuvenation therapies makes your skin smoother and younger. Presenting a more youthful, more attractive you is the ultimate goal of any facial rejuvenation which we perform.
As we mentioned, each of our therapies has many benefits in common, and each has its unique advantages as well. But, overall, your Advanced Skin Rejuvenation treatment will:
Smooth Fine Lines
Best Treatment for Wrinkles
Lessen the Impact of Dark Spots
Improve Hydration
Remove Dead Skin
Reduce Acne
Relieve and treat skin diseases like rosacea, hyperpigmentation, melasma, and others.
Skin Rejuvenation

Options
IPL has many unique benefits. Its ability to be used to treat any part of your body being chief among them.
Jet Peel Dermal Infusion delivers much-needed nourishment directly into your skin, gently and without contact.
ULTherapy can lift excess skin in several areas and improve wrinkles and lines on the décolletage.
Regardless of the skin and complexion issues that challenge you, Laccura will make a difference. Our Advanced Skin Rejuvenation therapies and our highly-skilled, certified estheticians and practitioners are waiting to give you that fresh, healthy, new look you so desire.
With so much promise for significant improvement, why not contact us today? Schedule your complimentary consultation and evaluation to find out which therapy is your best option.
Rejuvenate your skin, and re-energize your self-esteem and confidence with Advanced Skin Rejuvenation from Laccura Highland Park.
Please, complete the form and will get in touch with you shortly to set up an appointment.