Laser skin and wellness treatment is the key to your beauty! Are you regretting that tattoo? Tired of dealing with unwanted hair in inconvenient places? Or perhaps, stubborn acne scars or stretch marks are impacting your self-esteem.
Laser Treatment by Laccura can address all of these and more with the latest, most effective, and safest laser technology to date. The incredible power of this intense light therapy can:
Smooth Wrinkles
Minimize Scarring
Deliver a Softer More Youthful Complexion
Melasma
Sun spots
Rosacea
Vascular Treatment
Laser Skin and Wellness Treatment can diminish birthmarks, brown spots, melasma, sun damage, and other discolorations.
Laser Skin Treatments and Wellness
Our Laser Skin and Wellness Treatments employ some of the most advanced technology available, allowing for fast and accurate treatment of numerous skin conditions. Each client is different, and our skilled practitioners and certified estheticians evaluate each client and craft an individualized treatment plan.
A pinpoint, highly intense but gentle beam of light passes through the skin and is absorbed by the target area. This powerful action breaks down pigmentation, disables hair follicles, and stimulates collagen production depending on the precise application and settings.
Laser Treatments are safe, non-invasive, and structured to optimize your results and quell discomfort while avoiding long-term damage. Typical sessions last from 15 to 30 minutes, depending on the precise treatment and area of application. Specific side effects, like redness in the area treated, are minimal and will subside within hours.
Benefits of Laser Treatment
The wide range of issues that Laser Treatments can successfully address safely, effectively, and without significant discomfort or downtime make it one of the most beneficial beauty-enhancing therapies in our toolbox.
Our Laser Treatments are effective and safe for all skin types, including dark and tanned skin. And, although this therapy is helpful in treating a wide variety of skin issues, hair and tattoo removal are among the most popular benefits they provide.
Some of the other life-changing and beauty-enhancing benefits of Laser Treatment are:
A Well-Established Safety Record
Reduce Visible Veins on the Face and Legs
Smooth Wrinkles, Fine Lines, and Skin Texture
Diminish Age Spots, Sunspots, and Other Blemishes
A Superb Non-Surgical Remedy
Very Precise and Customizable Treatment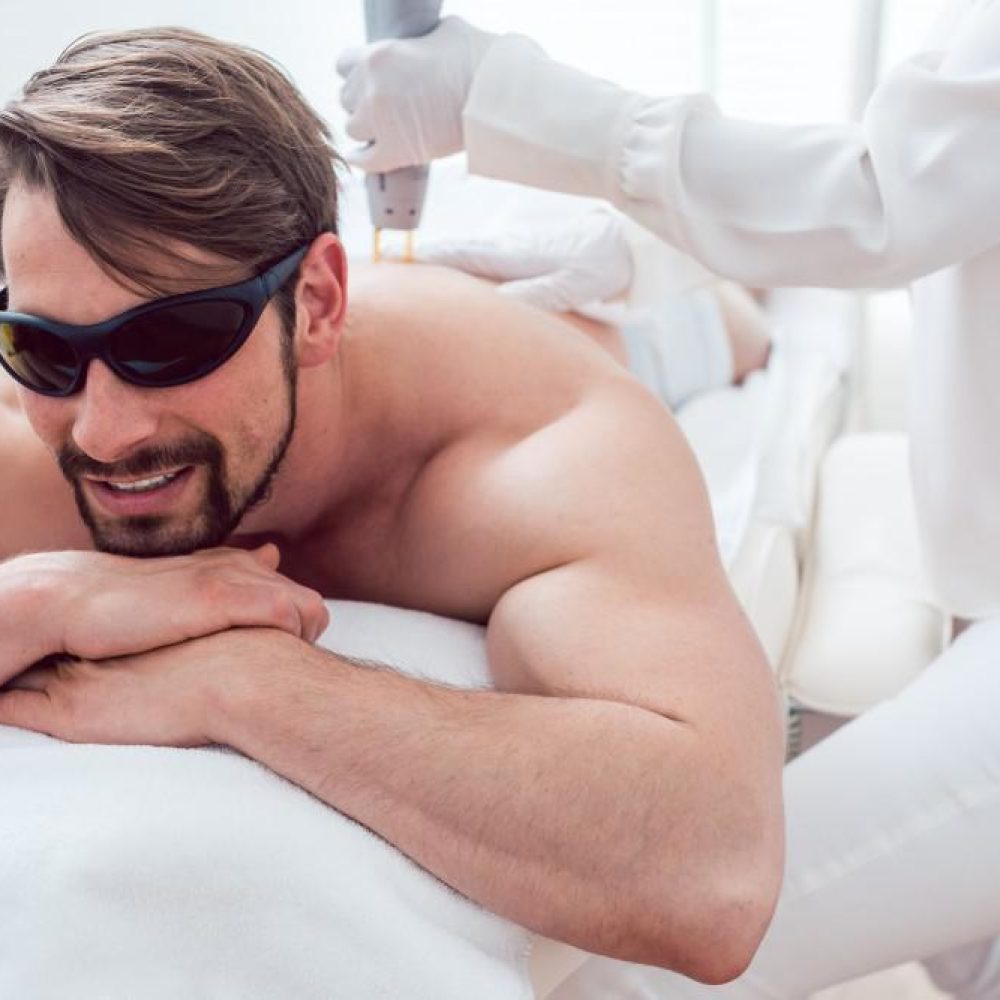 Laser Treatments by our accomplished experts are quick, exacting, virtually pain-free, and highly effective.
You will generally see results after your first treatment. Typically, however, multiple sessions are necessary to complete your regimen safely. Our skillful and highly trained practitioners understand the power of this therapy and take every step to avoid discomfort or harm. Your safety and satisfaction are not only our focus; they are the reason for everything that we do.
This FDA-approved therapy is freeing countless individuals from embarrassing and sometimes crippling skin conditions, blemishes, and other troubling and undesirable issues, some being lifelong challenges.
Now that you are a bit more familiar with this fantastic new technology and its astounding capabilities, why not contact us today to make an appointment for your complimentary consultation and evaluation.
Leave the signs of aging and other beauty challenges behind with Laser Treatment by Laccura.